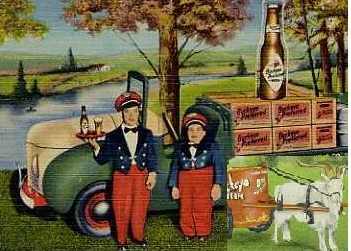 Carl Walinski was the 4 foot 5 inch living trademark of the Buckeye Brewing Co. He traveled throughout the tri-state area promoting Buckeye Beer. He and his traveling companions Bonnie another short person and Billy the goat were seen in parades and other events pitching Buckeye Beer.

Carl passed away in 2002….A true person in Buckeyes history is gone forever.
The many faces of "Bucky"
His likeness could be found on every conceivable piece of advertising....A few of the many different pieces of memorabilia can be seen below.